Visibility and brightness
The visibility and brightness of the laser line for floor marking depends on many factors. In principle:
Line length: Jthe longer the line, the lower the brightness, as the light power is distributed over a larger area
Laser colour: green appears much brighter than red
Work surface: the darker and more matt the surface, the darker the light appears
Ambient brightness: The brighter the ambient light, the darker the laser line appears. This is due to the human eye, which reduces its sensitivity depending on the ambient brightness. In direct sunlight, it is very difficult to see a laser line because the retina is already saturated
Laser power: The higher the laser power, the brighter the laser line
The cylindrical housing with a diameter of 18 mm can be easily placed in the specially designed adjustable holder. The line laser is clamped so that the housing is not damaged. At the same time, the thermal power generated, which is very low in these modules, is dissipated via the clamp to a metallic surface.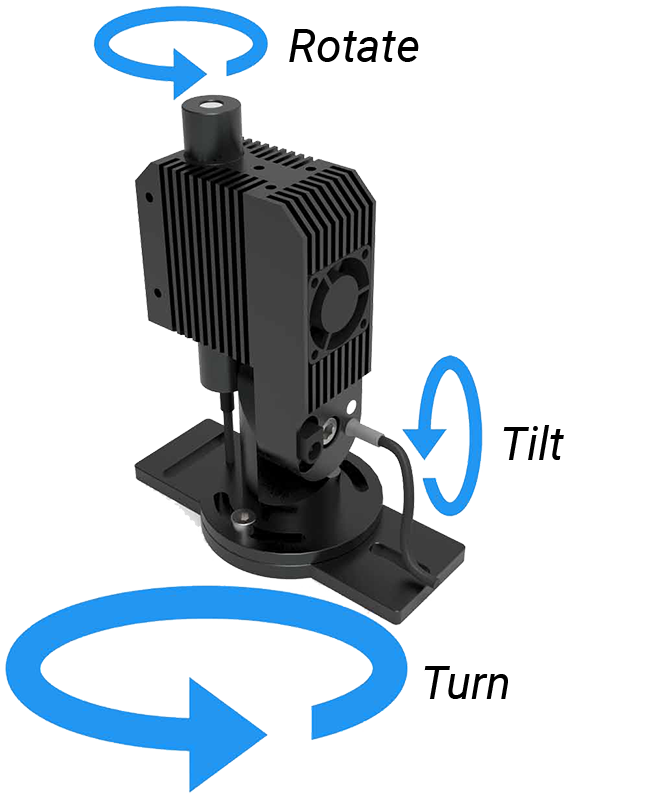 The line position is adjusted simply by twisting the laser module in the clamp. The stable aluminium bracket can be adjusted and clamped in pan and tilt. In addition, a guide pin is located in the mounting foot for clean concentricity during the adjustment process. The mounting plate allows mounting from the front as well as from the back via threaded inserts.
If the laser is mounted vertically over an area, the line length is determined by the distance and the projection angle. If mounted at an angle, the line length can be significantly longer. Depending on the application, the modules can be selected with different beam angles, which generate the length of the laser line. The larger the beam angle, the longer the line.
A summarized detailed list of the following line lasers:
| | |
| --- | --- |
| Laser power: | 300 mW / 500 mW / 750 mW / 800 mW |
| Wavelength: | 520 nm green / 638 nm light red |
| Deflection angle: | selectable up to approx. 110° |
| Line width: | approx. 2 - 6 cm after 5 m, customer-specific changeable |
| Laser class: | 1/2 |
| Power supply: | 230 VAC via power supply unit |
| Connection module: | Hollow plug |
| Cable length: | 1 + 1 m, extendable up to 12 m |
| Dimensions laser module: | approx. 18 x 100 mm |
| Bracket dimensions: | approx. 150 x 120 x 65 mm |
| Lifetime: | typ. > 20000 h |
| Temperature range: | approx. -15° C -+ 40° C |